We recognize that all of our patients are unique and deserve to receive orthodontic care that reflects their individual needs. Our experienced and talented team is committed to working with you and your family to create a comfortable, stress-free, and rewarding orthodontic experience every time you visit our practice.
We are pleased to welcome you and your family, and we look forward to working with you.
---
Jamie
New Patient/Treatment Coordinator
I work with many of our new patients during their initial exams, coordinating financial contracts, billing, insurance, and scheduling. I look forward to watching as all of our patients' bright smiles transform with confidence after each treatment they receive. Working at McClure Orthodontics is a wonderful experience. The entire team creates such a positive environment, and everybody here, including our patients, is like family to me!
I moved here from Texas in 2001 with my husband Mike and our three daughters, Raigan, Morgan, and Taylor. I enjoy traveling and camping with our friends and family in our RV, cooking, sewing, and crafts.
Dana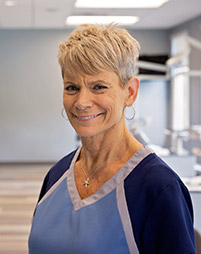 Clinical Orthodontic Assistant
For more than 30 years, I have enjoyed being a part of creating beautiful smiles through orthodontics. I love the challenges that I face each day, and the successful outcomes achieved by both our staff and our patients. Our entire orthodontic team is dedicated, hardworking, and the most fantastic people to work with.
Outside of work, I enjoy spending my free time working out and riding my motorcycle.
Katie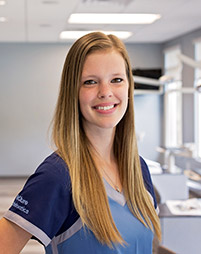 Clinical Orthodontic Assistant
I am one of Dr. McClure's dental assistants. I love getting to know our patients and their families on a personal level. I've learned so much from our patients, and it's always great to see their happy, smiling faces. Dr. McClure is an amazing orthodontist and what I love most is his perfection in creating beautiful smiles and his dedication to his profession. I also love working with such a wonderful team. We all work so well together!
When I'm not in the office, I love spending time with my husband and our dog, Axle.
Mendy
Clinical Orthodontic Assistant
I graduated from dental assistant school in High Point, NC in 1997 and began my career in orthodontics in 2000. As one of Dr. McClure's assistants, I help with anything and everything that has to do with providing exceptional patient care. The most fun aspect of my job is seeing the before and after photos of our patients; it's amazing to see what a difference orthodontic treatment can make in their appearance and confidence.
I have been married to my wonderful husband Brad for 12 years and we have two beautiful girls, Eliza and Gracie. We are Wolfpack fans and enjoy anything Disney.
Jess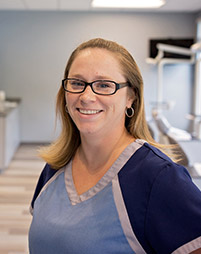 Clinical Orthodontic Assistant
I have enjoyed working in the orthodontic field for three years. As a clinical orthodontic assistant, I assist Dr. McClure with placing braces, cementing appliances, placing and removing arch wires, and teaching patients to keep good oral hygiene. I love helping our patients achieve a healthy and beautiful smile! Dr. McClure is a joy to work with and my coworkers make my job fun.
I recently relocated from San Diego, CA and I'm enjoying getting to know the great state of North Carolina.